SENATOR A. M. AIKIN, JR., MEMORIAL RETIRED STATE EMPLOYEES ASSOCIATION PUBLIC SERVICE AWARD
The Aikin Award was established in 2011 to recognize and memorialize the late Senator A. M. Aikin, Jr., who served 46 years in both chambers of the Texas Legislature. Senator Aikin inspired the creation of the Retired State Employees Association (RSEA) in 1977 when he determined state retirees were not well represented at the Legislature by organizations.
Senator Aikin began his political career from Paris, Texas, in 1932 when he was elected to the Texas House of Representatives. He completed two terms in the House, then served in the Texas Senate from 1937 until his retirement in 1979. He served on the Senate Finance Committee during his entire 42-year Senate career, chairing the committee from 1967 to 1979.
Aikin is remembered for being a strong advocate of education reform and state employee and retiree rights. He sponsored an amendment to the state constitution in 1937 creating the Teacher Retirement System and was a firm supporter of the creation of the Employees Retirement System in 1947. Known as "the father of modern Texas education," he was instrumental in establishing the centralized state education system and the Foundation School Program when he co-sponsored the Gilmer-Aikin Laws with Representative Claud Gilmer in 1949.
In the summer of 1977, Senator Aikin contacted his friend, Henry Rothell, and asked him to help form a group to work for retiree benefits. Thus, RSEA took form and life.
First awarded in 2011, The Aikin Award this is the most prestigious award given by RSEA and is presented to a recipient who exemplifies a true public spirit, gives honor to public service, and has a legacy of demonstrable efforts on behalf of State of Texas retirees. Each of the following recipients of the Senator A. M. Aikin, Jr., Memorial RSEA Public Service Award has been recognized for their individual actions and commitment to state retirees.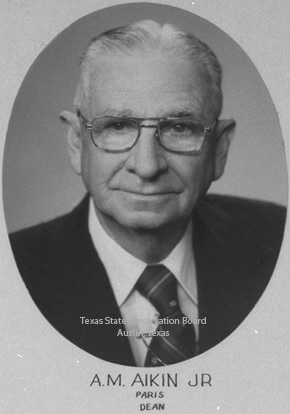 Highlights of the First Six Recipients of The RSEA Akin Award are Shown Below.

Recipients of The RSEA Aikin Award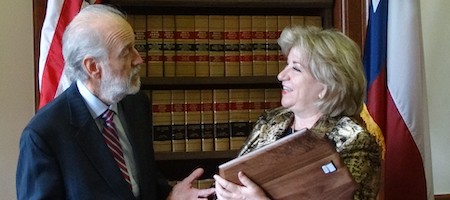 2021 Aikin Awardee
Jane Nelson
Senator
Senator Jane Nelson is a businesswoman and former teacher who served two terms on the State Board of Education.
The first woman in Texas legislative history to chair a standing budget-writing committee, she served for four sessions as Chairman of the Senate Finance Committee. She also served as Co-Chair of the Texas Privacy Protection Advisory Council and was a member of the State Affairs Committee as well as the Legislative Budget Board.
Senator Nelson championed over $8 billion in tax relief; passed more than 30 pieces of legislation combatting sexual assault and domestic violence; and established a peer-to-peer mental health intervention program for veterans. She also created the Cancer Prevention and Research Institute of Texas, which funded more than 5 million cancer prevention services.
Before becoming the Senate's chief budget writer, she was the longest-serving chair of the Health and Human Services Committee. In that capacity, she led efforts to expand women's health; protect endangered children; and improve care for seniors and Texans with disabilities.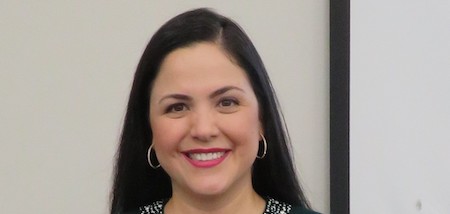 2019 Aikin Awardee
Ana Hernandez
Representative
State Representative Ana Hernandez was elected in a special election in December 2005 to represent District 143 in the Texas House of Representatives. District 143 covers part of Houston, Channelview and the cities of Galena Park and Jacinto City. She served as Vice-Chair for the House Committee on State Affairs, and on the House Committee on Licensing & Administrative Procedures and the House Calendars Committee. She is currently serving her eighth full term.
Ana was born in Reynosa, Mexico and raised in Pasadena, Texas. She comes from a very close-knit and hardworking family, and is the younger of two daughters. She enjoys spending time with her son, Gregory Eli.
Ana graduated from Sam Rayburn High School in Pasadena when she was 16 years old, and received her Bachelor of Science in Political Science and Psychology from the University of Houston. She went on to receive her Doctor of Jurisprudence from the University of Texas School of Law in May of 2004. In addition to representing District 143 in the Texas House of Representatives, she is also a practicing attorney in Houston.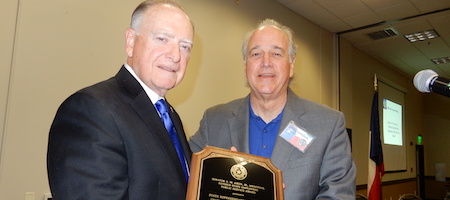 2017 Aikin Awardee
Dan Flynn
Representative
Dan Flynn represented House District 2 in the Texas House of Representatives. Representative Flynn served as Chairman of the House Committee on Pensions, Investments and Financial Services, and is a member of the Defense and Veterans' Affairs Committee. Representative Flynn has extensive experience in border and homeland security issues.
Governor Rick Perry commissioned Representative Flynn as an Admiral in the Texas Navy, a title reserved for honoring those who have provided great service to Texas. In this role, Representative Flynn has worked on the State's response to the crisis on the Texas-Mexico border, homeland security, and veterans'. The US Department of Defense has recognized Representative Flynn for his strong legislative support of the department's efforts. In addition, Representative Flynn is an active member of both the National Conference of State Legislators (NCSL) as well as the American Legislative Exchange Council. In October 2012, he was appointed Chairman of the NCSL Military and Veterans Affairs Task Force.
Representative Flynn is a native Texan and had a distinguished career in the banking industry of Texas, including service as the Deputy Banking Commissioner for the State of Texas. He has served as a consultant in the financial and banking industries in Texas, nationally, and internationally. Prior to his election to the Texas House of Representatives in 2002, he served as County Judge of Van Zandt County.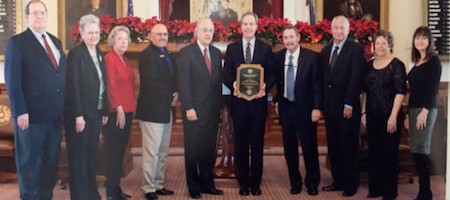 2015 Aikin Awardee
Joe Straus
House Speaker
Joe Straus served as Speaker of the Texas House of Representatives from 2009 until 2019. He was the first Speaker of the House from San Antonio in a century, and he's the longest-serving Republican Speaker in Texas history.
Speaker Straus focused on the core responsibilities of government and his constructive governing style. As the presiding officer of the Texas House, he also focused on priorities and issues that support private-sector growth.
Speaker Straus has often identified public education as the state's best economic development tool. Under his leadership, the Texas House pushed for more funding of public schools, improved career readiness, reduced testing and helped more students access needed special education services.
Speaker Straus also put a spotlight on the state's infrastructure needs, including the pension funds. He led the successful 2013 campaign to fund the long-heralded State Water Plan.
In 2015 the House expanded mental health services for Veterans, provided critical matching funds for effective local programs, and launched needed repairs to state mental health facilities.
Speaker Straus made his first run for public office in 2005, when he won a special election to fill the District 121 vacancy in the Texas House. He would represent northeastern Bexar County in the Texas House for 14 years, from 2005 to 2019. In 2009, at the outset of his third term in the House, his House colleagues voted unanimously to elevate Representative Straus to the position of Speaker.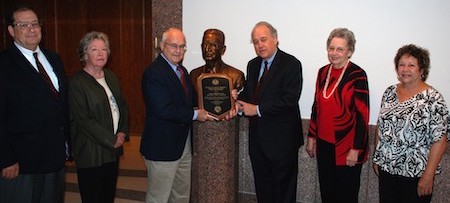 2013 Aikin Awardee
Bill Callegari
Representative
Representative Bill Callegari has resided in the Katy area and been a businessman in the Houston area for more than 30 years. A Licensed Professional Engineer for over four decades, he currently owns WC Engineers, Inc., which provides engineering consulting services for the water/wastewater and environmental industries.

In addition to his Professional Engineering credentials, Representative Callegari holds Class A certifications in water and wastewater operations. He has participated on numerous professional organizations and committees relating to water, environmental and engineering issues. He was co-founder and former president of the Association of Water Board Directors, and served as the first chairman of the Texas Water Commission Wastewater Certification Advisory Committee.

Representative Callegari served as Chairman of the House Committee on Pensions, Investments and Financial Services and was a member of the House Natural Resources Committee. In prior sessions Representative Callegari served on the Transportation, Land and Resource Management, Cultural and Recreational Resources, Calendars, and the Local and Consent Calendars committees.
As one of the House of Representatives' leading water experts he authored and passed key pieces of legislation affecting water utilities, water districts, and groundwater management.
In his six terms in office, Bill established himself as a no-nonsense, conservative leader. As one of only two licensed engineers in the House of Representatives, he brought unique professionalism and expertise to the Legislative process.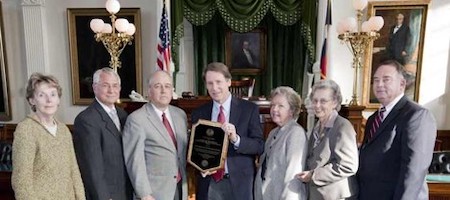 2011 Aikin Awardee
Bob Duncan
Senator
Robert Duncan served in the Texas State Senate from Lubbock, he previously served in the Texas House of Representatives from District 84 from his election in 1992 until 1996. Senator Duncan is the Chair of the State Affairs committee and also sits on the education, finance, higher education, natural resource committees and the Joint Committee on Oversight of Higher Education Governance, Excellence and Transparency.
Senator Duncan is a champion for higher education, crafting programs such as the National Research University Fund and the Texas Research Incentive Program, which incentivizes giving to university research priorities by awarding state matching funds, among other programs.
Senator Duncan served as President Pro Tempore of the Senate during the 81st Legislature.
Duncan holds bachelor's and law degrees from Texas Tech University. He practices law and has been a partner at the Lubbock firm of Crenshaw Dupree & Milam, L.L.P.